About audioindy.com
Welcome to www.audioindy.com... We offer free web audio hosting facilties to www musicians, bands & Deejays, and provide Free music websites for bands deejays and musicians.
What do you get in this world for free eh?....?
Artist/Band/Label and Deejay user get 100mb of free track/mix space - For Deejays users you can add a 65mb-max one hour long radio mix set encoded at 128kb .mp3 - Yes, you can add large mix-set files, or upload lots of smaller remixes or several 1/2-hour sets, whatever you like!
Unlike other hosting sites, 7161 does not down-sample your uploads. Whatever sample-rate .mp3 you choose to upload is faithfuly maintained. So you choose the quality of the .mp3 file you want people to stream/download.
Server space can be updated in blocks of 100mb if extra is needed and every upgrade member get's a free video slot from our dedicated media server if required.
PODCAST YOUR MUSIC WITH 7161 - iTUNES STORE COMPATIBLE PODCASTS!
For your tracks and mixes we offer direct stream-links and both a simple easy-to-load Podcast as well as a full iTunes Store compatible Podcast so you can submit them to Apple for inclusion in the iTunes store! - All Podcasting admin is 100% automatic. Just click a button in your admin and your Podcast is created! - For more details on 7161 Podcasts, click here.
FREE MUSIC WEBSITES !!
Free - No catch - No banners, pop-ups, or any advertising on your free website!
In the old days people just had a Myspace page and it was enough, but today there are many social sites you manage content on for promotional reasons... As a consequence of this people are turning back to having a real dedicated website for their band or music-project which then links to all their various online social-site profiles; from Facebook & Twitter to Myspace & Youtube.
Our free user websites integrate our free mp3 song-hosting into a real website which links to all your other online social-site profiles - Our free websites automaticaly create Podcasts when requested by your visitors and have share-widgets for yourself & visitors to share your added music on all the main social sites.
All free websites have the following content features
A dedicated forum
Share widgets for Facebook etc
news-item visitor comments
Track/mix visitor comments
mailing list add & contact forms
All your added tracks/mixes
Stream & download links
Podcasting
RSS blog of all news
Gigs, gallery & videos pages
and more...
Template version 1
Right menu - You can choose the 100% editable version or any of the 28 ready to go templates. here's a few of the ready-to-go examples.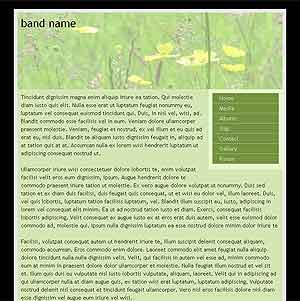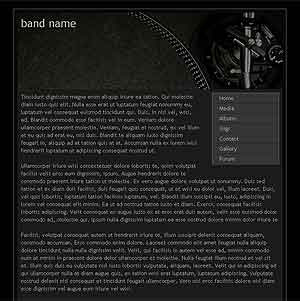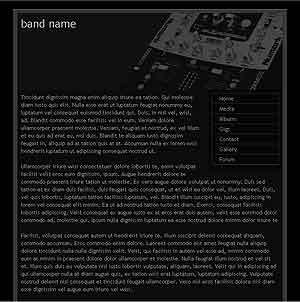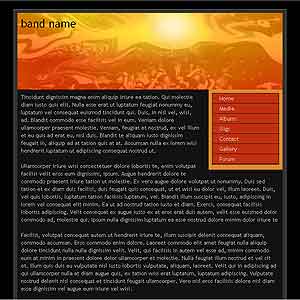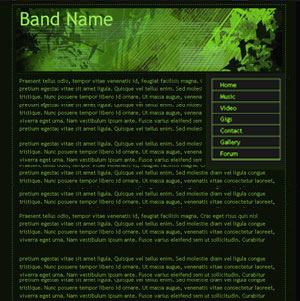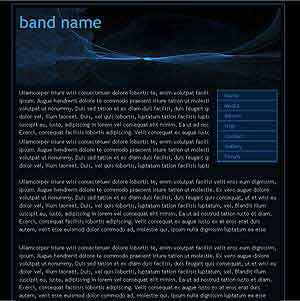 The 'editable' templates version is 100% colour editable, and you can also make areas of the layout transparent, offering even more style options - You can also choose to add an image or FLASH banner to your page.
Template version 2
horizontal menu - You can choose the 100% editable version or any of the 28 ready to go templates. here's a few of the ready-to-go examples.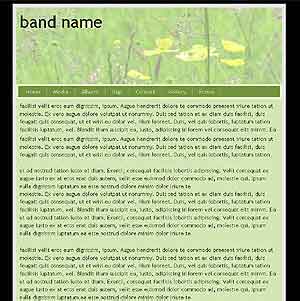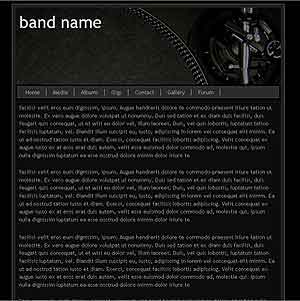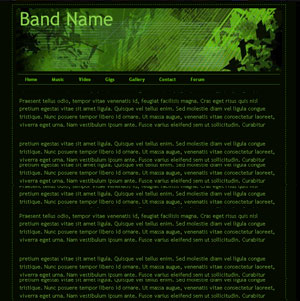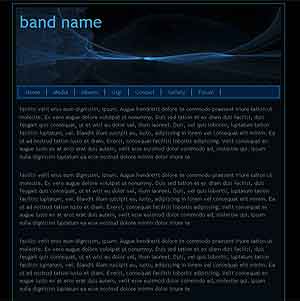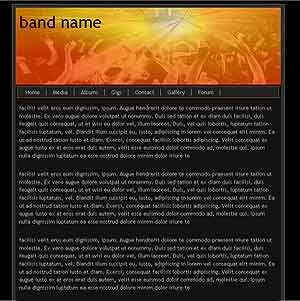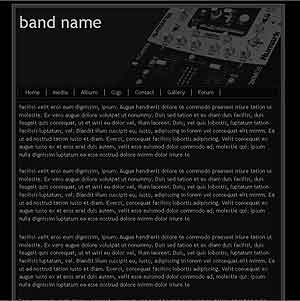 The 'editable' templates version is usual 100% colour editable, including the menu border lines and the menu-item background and menu-item text colours (both static and for mouse-over colours) - You can also choose to add an image or FLASH banner to your page.
Guitar rig templates!
We've got 7 to choose from and more amp-rigs coming soon!... You can customise all the colours except the actual amp and cab
Template 3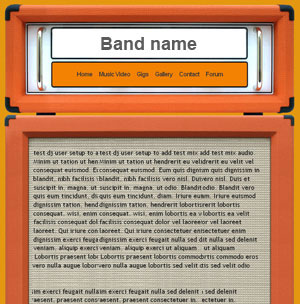 Template 4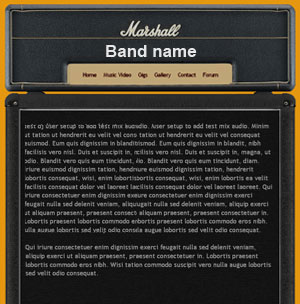 Template 5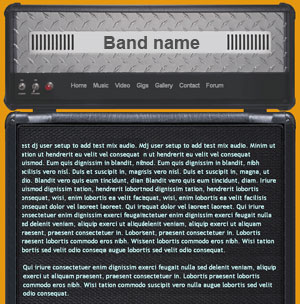 Template 6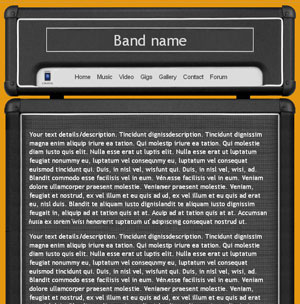 Template 7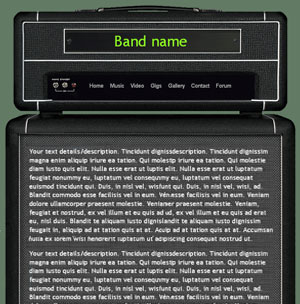 Template 8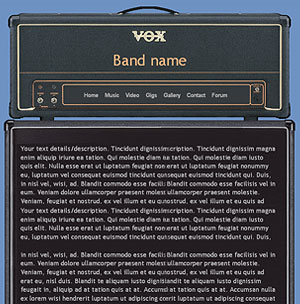 Template 8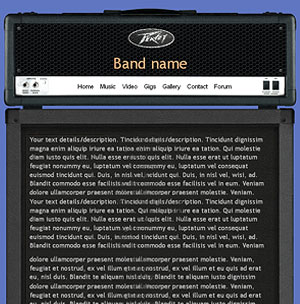 Custom colours banners and more...
Here's some example pages made using the 100% editable templates - They can have banner & bg images matched with customised colours:
www.audioindy.com/user/homepager
www.audioindy.com/user/test_deejay
www.audioindy.com/user/aaa_tester
www.audioindy.com/user/chicken_legs
Got a domain-name? - Point it at our free website!
You can of course point a domain name to the homepage such as in this example by one of our members:
www.nutoniom.org
ANY OTHER QUESTIONS?
Q. Is my webpage/data/songs safe?
Q. Will this page I create be reliable or offline all the time?
Your Webpage & song files will be stored in an underground ex-NATO nuclear command bunker, with it's own diesel generator power-backup system allowing it to survive a complete UK national grid failure for up to 3 months!
So even if Britain get's nuked by Osama Bin-Laden, people can still listen to your songs and see your next gigs!... (er, albeit that your band & the actual punters might be fried to a crisp. lol!)
Your audio files & any created homepages will be stored/served-up from here:
http://www.thebunker.net/wwa-datacentre.htm
http://www.thebunker.net/wwa-infrastructure.htm
We've been in place here for about 5 years now and everything is good with a decent 99.999% uptime - Basicaly we've never seen a single time when the server was down!
Feel free to join up and use the facilties
- We hope you'll find them useful and will take the upgrade to not only help the site survive & grow, but also to get those extra facilties for yourselves!
You'll find a site bugs & feedback forum in the forums section for any problems - The regulars will be there to help you out as well as the site admin - or mail us on: admin@audioindy.com
Thanks & enjoy!
Team 7161
London